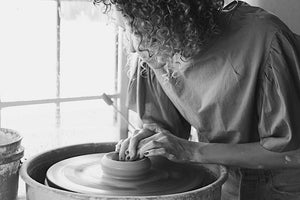 WOMEN IN BUSINESS, KIMMY ROHRS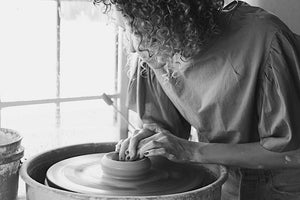 When we stumbled upon Kimmy Rohrs's work in Santa Fe, we knew we had to befriend her quickly. With her subtle use of color and texture, we figured her workspace would be a dream to photograph and had been hoping to include a ceramicist for this series. Kimmy exudes an easy confidence in her studio, making her workflow appear seamless and completely natural. One second she's deep in concentration, and the next she's looking up through her curls to tell us a fast fact about herself and how 'Whiskey and Clay' came be. Read on to see what Kimmy has to say about her journey as a creative and female business owner.

What is the most rewarding part about being a 'maker'?
For me, the most rewarding part of being a maker is having the flexibility that lies in creating my own schedule. Freedom is a huge pillar in my life and though I feel responsible for so much as a business owner, I would take this life a million times over the full-time job hustle. In my past career as an accountant, the most difficult part for me was a limited life schedule. 10 vacation days a year is complete bologna. 
When did you know that it was time to start your own business?
It all happened very organically. In Austin, my network of friends extends to the service industry community - coffee shops, retail stores, bars, etc, and when I started making pieces these friends liked, the orders followed along. I honestly can't remember a moment when I didn't have a long list of pending orders. What I find beautiful about it all is that these early accounts are still placing orders and supporting what I do.
Is there another female artist whose work you look up to?
I've always looked up to my dear friend Lindsey who herself is a potter, Era Ceramics. She opened my eyes to the idea of launching into pottery as a full-time life. Starting a very similar way, she worked for arts organizations and played around with pottery on the side in her backyard shed. Eventually her business grew to the point that working a regular job was not possible. Now she is making a fantastic name for herself and truly an inspiration for me. Hardworking, disciplined, passionate, and down right hilarious. 
What do you do to recharge and re-gain creativity?
When my energy starts to decline or creative juices slow, I head home from the shop to take a break and usually end up going for a run in the hills around my house. Trail running has been part of my life since I was little and I've always seen it as a way to reset and feel alive again. Fortunately I live among the foothills of the mountains north of Santa Fe and have no option other than hilly trail runs. 
Is there one piece of advice you would give to someone starting out on their own?
When I meet someone starting on their own business endeavor I like to be honest about the amount of work it sometimes can take. Working for yourself starts out as a true labor of love, and it's so important to really love what you're doing. Otherwise it can become tiring and a point of resentment. There are absolutely moments that I feel burnt out, but even in those moments I'm still willing to do the work for what I love.  
Is there a mistake you made along the way that turned into something positive?
About a year ago I was messing with my glaze recipe and mistakenly added a couple grams of cobalt oxide. I unknowingly glazed my pieces with this new glaze and fired em up. The result was a stunning color of glaze that I use to this day. The tiny bit of cobalt added a subtle blue icey hue to my pieces that I now cherish. Sometimes that blue interacts with another glaze ingredient called dolomite and, when fired right, turns light lavender and even rose pink sometimes. Its wild and I am absolutely in love with it. 
Do you have any rituals around your work?
I have a number of rituals I do around my work, but the most important one to me is taking great care of my hands. Porcelain can be super tough on working hands and especially where I live at 7,000 feet things dry out even more. My hands are my most relied upon tool and I try to take great care of them because of this. From warming my water bucket so my hands don't freeze, to tossing on thick hand balm at every opportunity, to (embarrassingly) sleeping with lotion filled socks on them at night. Giving them time away from throwing as well is something I work into my schedule. That time away from the wheel has a secondary effect of also slowing my mind and work flow, kinda like a forced break to relax and take inventory of life. 
What is a goal or milestone that you look forward to reaching?
A goal I often find myself reflecting upon is having sufficient inventory to fulfill orders as they come, rather than make pieces per order as they are placed. It's sort of a silly milestone, but since the beginning of my pottery career I have never experienced a moment where, for instance, a shelf was full of bowls that I could use for orders. I've always been in the motion of making them as they come in, with very little inventory of my own.
Where can we find you when you're not in your studio making ceramics?
If I'm not in the shop working you're likely to find me at home tinkering under the hood of a car with my partner, Aaron. A side-hustle of ours is backyard mechanics - we buy old beautiful cars that need love and fix them up for our use. Our newest project is Luna, a pearl white 1965 Mercedes 200.
What are you most excited about for the future of Whiskey and Clay?
When it comes to the future of Whiskey and Clay, I am most excited about the ability to experiment with this passion of mine. I only recently acquired my own kiln and have been using it non-stop to catch up on orders. I'm hoping that next year I'll be able to use it for not only production work, but experimenting as well. New clay blends, new glaze recipes, new shapes, and even collaborations with friend potters. 
Follow along with Kimmy's work via instagram @whiskeyandclay or check out her website for more information.
Shop Kimmy's spring looks:
BELL TOP, Khaki Cotton
RHODES DRESS, Marshmallow Linen