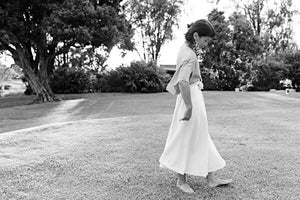 WOMEN IN BUSINESS, AMANDA ROBSON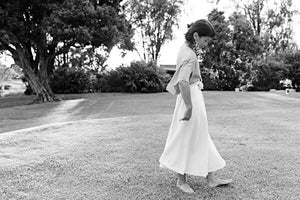 It's easy to get lost in FEAST event designer and founder, Amanda Robson's, stunning visuals. From her thoughtful tablescapes down to the strictly-local floral details, we regard Amanda as one of Maui's most notable cultivators of community and craft. Her backgrounds in entertainment and the culinary world have melded together to create a perfect potion:  equal parts reverence for the natural world and a gift for designing transcendent gatherings. We asked Amanda to be a part of our 'Women in Business' series and are honored that she has given us a glimpse into her world of visual storytelling. Enjoy!

Your work is so visually stunning, where do you look for creativity?
I often look to nature for design inspiration. My palettes are typically inspired by fruits that are in season, or different elements of our natural environment.
What was your biggest fear when starting your own business?
Is my work meaningful enough?

What goal or milestone have you reached that stands out?
The relationships I've built within our farmer and artisan community is an absolute gift. I'd say it's one of the most fulfilling aspects of my work.
Being that we are on an island, what have been some challenges in your line of work?
In the areas of food and floral, I feel like the challenges of living on an island in the middle of the pacific ocean have actually guided my focuses with Feast. Every year we've become more and more committed and determined to sourcing local. 
Is there one piece of advice you wish you could give yourself 10 years ago?
Meditate.
What is the most memorable Feast you've put on and why?
That's too hard...so many have been so special in their own ways!

What do you do to recharge and re-gain creativity?
I meditate 2 times a day, which is incredibly important in managing my stress. As for work flow, time with my family is super important so after a project that requires a lot of my time and energy, I dive in to my family and our home life to get centered. Work with Feast involves a lot of output. Family, friends, nature, yoga, meditation and travel are my sources of filling up my well. All of it is an incredible blessing.
What is the best tip you could give someone who is looking to start out on their own?
Be authentic.
What are you most excited about for the future of Feast?
I'm doing a deep dive into wellness for 2020. Exploring beautiful ways I can integrate wellness for humans and Mama Earth into my creative work with Feast. 
All above photos by @daejafallas
SHOP THE LOOK
Bell Top, Adobe Silk
Mia Skirt, Marshmallow Linen
Follow Amanda's creative journey with feast via her website or @feasthawaii