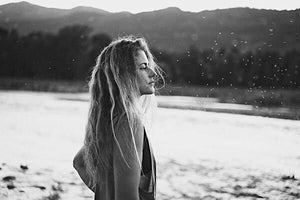 LIFE ON THE GO WITH RESI STIEGLER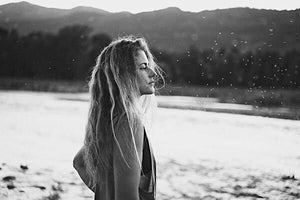 Resi Stiegler is a powerhouse of a human.  If you know her, you know there is seldom a dull moment in her world.  If she's not on a mountain, she's in the water.  She carries with her an undeniable magnetism, and also a covetous lioness mane of hair.  Not only is Stiegler an accomplished athlete with Olympic cred, she is a fierce and loving friend - a traveling heart with an appetite for the world. This is why we love Resi.
We asked Resi to answer some questions for us and to create some stunning imagery in her home state of Wyoming.  
Where would you most like to live?
I feel very lucky that I've lived in some of the best places in the world. I was born and raised in Jackson Hole Wyoming and love having that as my home base. I have lived in Hawaii and spent most of my career in Europe. This year in particular, I'm spending a lot of time in Munich. I am up for trying anything at this point... I love to see the world and be apart of it. 
What do you regard as the lowest depth of misery?
If I have an overwhelming feeling of wasted time... although, I can usually figure out a way to see what I was suppose to learn in a " bad situation" or "wasted experience."
What is your favorite occupation?
I ski race for a living and its also my passion. It involves traveling, which I love and enjoy so much. 
What is your most marked characteristic?
Optimistic enthusiasm. 


What is the trait you most deplore in yourself?
I have a very obsessive personality and I have to focus on relaxing in that area. Otherwise I completely go nuts in my mind. 
Which living person do you most admire?
My father and godmother. My father was born in Austria in 1937 and has a pretty wild story. He's accomplished the highest highs, experienced heartbreak, defeat and much more. He is just the simplest, happiest man. It sometimes feels like I get a peek into the future and see what complete solace looks like.  
My Godmother was born in Germany and is the most beautiful, well traveled, exciting lady. She came to work for my dad in the 60's in Jackson and has the most outrageous stories of those days. You can tell she has really lived a good life - a full life. Both of them have and it's so inspiring to see. 
What is your current state of mind?
I've been through a lot in the last years, who hasn't. I enjoy learning and evolving and re-creating myself. I have some really amazing people in my life right now who challenge me and keep my mind sharp. 
What do you most dislike about your appearance?
I try to steer clear of those types of negative thoughts. We are all born unique and I try daily to be brave in what I was given and loving towards that. It's not easy but it's wonderful to see others love themselves and I like to follow that example. 
What or who is the greatest love of your life?
The sunrise or sunset from a snowy peak! 
When and where were you happiest?
When I am free and confident in myself and my surroundings.  I have a very small close group of people that I enjoy putting time and effort into. It's very important to me that I can give them 100%. I don't do anything half-ass. I love fiercely and deeply and to know that I am surrounded by people who understand me and are willing to live life to the fullest and help each other be the best we can be. This gives me happiness!
Which talent would you most like to have?
The talent of learning languages. For some people it comes so easily, but for me its always been a struggle. I think that could become one of my greatest achievements if I put in the work.  
Thank you again Resi, and thank you to our readers!
See the fall winter collection HERE.