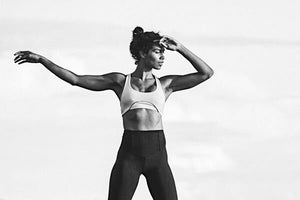 Q&A WITH JOIE RUGGIERO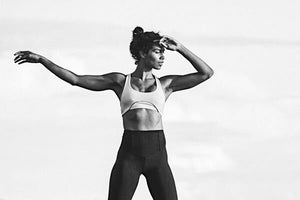 Back in October, our team had the privilege of taking a class at the Andaz led by Joie Ruggiero. Despite the palm trees looming overhead, nothing about that morning was "easy breezy". We worked, we laughed, we burned...and then we ate an enormous, albeit healthy, breakfast directly proceeding the session. Despite our rude awakening, we left feeling like we needed another taste of Joie's medicine - a daily dosing even. We decided to catch up with Joie in time for the New Year, to get some resolution reminders and a glimpse inside the mind of the beautiful, inspiring founder of Haumea Athletics.

Who first shaped your idea of wellness?
My mother. My mom is truly a woman before her time in the way of alternative healing and emotional/physical wellness. She was a student of Yogi Bhajan when Kundalini Yoga was still on the fringe. I remember she would occasionally keep us home from school to have "Well-Days." We would practice yoga, meditation, and discuss our big plans for the future. Of course as a kid I rebelled a bit because it wasn't cool to chant or do breath of fire in public, but looking back now I am so utterly grateful to her for planting the seeds of spiritual and physical wellness so early on.
What do you hope each student takes away from your class?
A deeper sense of their body and the great power it has. A sense of responsibility to continue to reach their goals in fitness and in life.
Who or what exemplifies fitness to you?
Martha Graham, Tina Turner, George Balanchine, Halau Na Lei Kaumaka O Uka, Alvin Ailey American Dance Theatre, Kenyan Maasai tribal dances, Bob Fosse, the list goes on. I see dance as a universal language that fitness is a dialect of. A surfer who experiences stoke, a runner who hits the runners high; these feelings are analogous to a deeper spiritual significance of physical activity. This is the essence of intentional movement.
Has having a child changed how you view fitness? What have been some of the challenges?
I was fortunate enough to have had many clients somewhere in their pre/postpartum journey before my son was born. It gave me a unique passion for postpartum reconnection and a true sense of patience for my own journey. For me, the challenges came emotionally. I remembered distinctly feeling like I would never again have motivation for any personal or professional pursuits. While I had a beautiful birth experience, I don't know what I would have done without the support of my family and friends. When my body was ready to workout again, I learned to be gentle and kind to myself, where previously I would have been highly critical and demanding of results. The time immediately after welcoming a child into the family is so precious and delicate, and fitness should be respectful of that.
What is in store for you in the New Year?
This month will bring with it the Mother of Fire Retreat at Lumeria, Maui. This retreat is for mothers of all kinds. Mothers of children, mothers of books, mothers of fur babies, mothers of companies, websites, musical compositions, etc. We all have something primordial and universal waiting to be birthed through us, and this retreat is designed to help bring it out. Daily workout sessions, meditation and breath-work workshops, Hawaiian cultural activities, and a locally grown farm to table menu. This event represents a turning point in my postpartum journey, when I became ready to contribute back to the world through my work. We are also getting ready to launch a line of CBD workout recovery supplements, that I can't wait to share more about soon. 

Photography by Bailey Rebecca Roberts, @baileyrebeccaroberts.
Follow Joie: @joililikoi