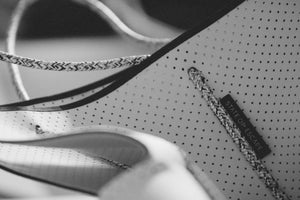 ON CRAFTSMANSHIP WITH SOE FOUNDERS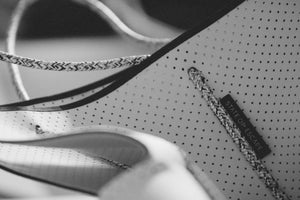 We recently launched two new colors of the 'Escape Tote', made in collaboration with State of Escape.  In light of this new offering, we decided to chat with the SOE founders to learn more about their approach to "making".  It has been an honor to work with a company whose ethos aligns with our own, and we believe we have a responsibility to educate our customers on how these products came to be.  We hope you develop a newfound appreciation for your favorite tote after reading!
What are your core values when it comes to production? 
Quality always comes first. We manufacture what appears to be a very simple product but it is actually quite complex to make. We use non-traditional materials which require specific custom machinery and skill to craft. There is nowhere to hide bad craftsmanship so it's critical we always focus on the quality.
How do you incorporate sustainability practices into your manufacturing process? 
We only manufacture to order and on a daily basis. This ensures minimal wastage of materials (or excess product) and our factory is constantly in work. It's important to us that the people making our bags are an extension of our business and we have a great relationship with them. Sustainability is an ongoing business concern and we constantly assess all facets of our business (from packaging, shipping, material, etc.) to ensure we are evolving and making change in this space. 
Does proximity to your factory inform the design process? 
I design and make all of the samples at my studio before I take them to our maker. They are brilliant at the technical detail (where I fall short!) but it's really important that the all design aspects are resolved before we commence with the final sampling stage. 
How has manufacturing your own product changed the way you consume? 
I'm far more aware of quality and country of origin. I want to know where things are made and grown to ensure safe and ethical work practices. Today I'm more likely to invest in a few special pieces than disposable items. This is a global movement and one I hope continues to be embraced and championed!
What are the challenges or limitations, if any, to having a product that is constructed by hand? 
Manufacturing costs are largely calculated on time. When you construct a product by hand (even our patterns are individually hand cut) inevitably your costs are higher. As this isn't something we're willing to compromise on we just have to work harder and smarter! There are many shortcuts we could take but at the end of the day when we see our customers carrying our bags we're proud of what we've created.
Thank you, State of Escape, for your transparency and willingness to collaborate on such a unique, beautiful product with us.