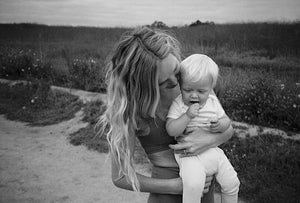 CALIFORNIA LIVING WITH LEAH BRADLEY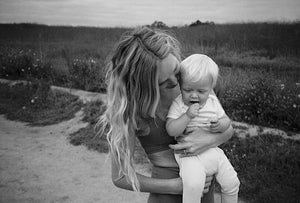 California mama Leah Bradley has got us all soaking up her coastal lifestyle and fawning over her two toe-headed babies, Zippy and Velzy. She can be summed up as a "ray of sunshine" and I don't just mean because she's frequently caught wearing yellow. Her laid back attitude and positive outlook has got us all slipping into our summer persona a whole month early. 
We asked Leah to answer some questions inspired by the infamous Proust Questionnaire. Read on to catch a glimpse of this golden girl's California lifestyle.

What is your current state of mind?
Happy and content! 
Which living person do you most admire?
My mom, she's the most selfless person I know. She's always willing to help and always puts others' needs before her own. Love her!
What do you most dislike about your appearance?
I've always been a little self conscious of how wide my shoulders are. I was a gymnast and often didn't feel very feminine with my wide shoulders- but I'm learning to love them and also am happy I've got some leftover muscle from gymnastics for carrying two babies around all day.
What is the quality you most like in a friend?
I love friends who go with the flow, are always up for an adventure, and are "no drama"
What or who is the greatest love of your life?
My high school sweetheart and our two babies... Zippy and Velzy.
When and where are you happiest?
At the beach sitting on the warm sand or floating in the ocean with friends and family.
Which talent would you most like to have?
The ability to always be present and in the moment. Life is so full of constant distractions and ways to stay busy, I never want to get caught up in it to the point where I miss our on my sweet life in front of me.
What do you consider your greatest achievement?
Carrying life and then bringing life into the world when I had my two babies.
Where would you most like to live?
Right near the coast in California in a cute little beach home!
What do you regard as the lowest depth of misery?
Not being able to be with my kids would make me so sad! I had to have emergency surgery last month and knowing my sweet kids weren't with me especially little Velzy who is still breastfeeding made my heart hurt!
What is your favorite occupation?
What I am doing now, love creating and shooting content for brands that align with my personal values and aesthetics. I also love that I'm able to make my own hours and bring my kids to work with me!
What is your most marked characteristic?
This is hard, I would probably have to ask everyone who I hang out with, but I tend to make people laugh and feel welcome everywhere I go!
Thank you again, Leah, and thank you to our readers! Follow along with Leah on Instagram and be inspired by her California lifestyle.